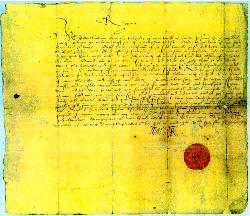 The Licence by Mary Queen of Scots in 1564 to use the orchard of the Greyfriars as a burying ground. This area, known as The Howff because it was used as a meeting area for the craft trades, is now a protected ancient monument, and a quiet place for a stroll and sandwich lunch.
Click here to view a larger version of the document.
The Queen
We understand that the cemetery of our burgh of Dundee is situated in the middle thereof where merchants carry out their business and that the dead of our said burgh are buried there. As a result, plague and other contagious diseases are caused and, once there is an outbreak, the presence of the cemetery causes it to persevere, to the great harm not only of the inhabitants of the burgh but of the whole kingdom. We know that within the realm of France and other distant places, no dead are buried within burghs and large towns, but they have their burial places and tombs outwith the same for avoidance of the aforesaid contagious diseases. And in the said cemetery wherein the dead were buried before, more appropriate ground may be had to the honour of oure realm and ease of our subjects. Therefore, and for other reasonable causes and considerations moving us and in return for good, true and loyal service done and to be done to us and our successors by the provost, bailies, council and community of our said burgh and their successors, we have permitted and licensed and by this document we permit and licence them and their successors aforesaid to bury their dead in that place and yards which once were occupied by the Grey Friars, outwith and beside our said burgh. And they may take possession, repair, use, enclose and build up the same for the purposes aforesaid in the future, without any revocation, obstacle, impediment or dispute whatsoever. Subscribed with our hand and given under our signet at Dundee, 11 September, the year of God one thousand, five hundred three score four years.
Signed Marie R.
Archive and Record Centre, Support Services
21 City Square, Dundee, DD1 3BY
Tel: 01382 434494
Fax: 01382 434666
Email: archives@dundeecity.gov.uk