Event Details
Dundee Healthy Living Initiative 10 Year Celebration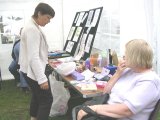 Free public drop-in event to celebrate and showcase the successful work of Dundee Healthy Living Initiative and community groups and partnership projects that have contributed to that success.

Stall include free face-painting, children's activities, Dundee Association for Mental Health, Health Checks, Complimentary therapies, Active Families, International Woman's Centre, HELM, Equally Well, Smoking Cessation, Dundee Carer's Centre and many more...! Come along between 2pm and 4pm.

Promoted By : Dundee City Council/NHS Tayside
Cost : Free.