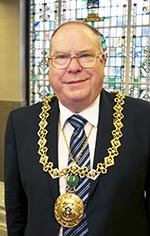 By the City of Dundee's Lord Provost, Bob Duncan
Dundee is a vibrant and modern city, proud of its tradition and history. Set by the River Tay on one of Europe's most impressive geographic locations, Dundee is a place where the future is being forged now.
Massive advances in medicine and the development of electronic entertainment are achievements of a city and people famed for their innovation and invention.
A revitalised city centre and retail scene, the thriving Dundee Contemporary Arts centre, the impressive Ice Arena and a huge choice of leisure options symbolise a confident and optimistic city of the 21st century.
Dundee is proud to be the home of the Al-Maktoum College of Higher Education. The city enjoys links around the world and Dundee was represented at the prestigious Dubai Sister Cities Forum. Global centres including Detroit, Osaka, Geneva and Shanghai joined with Dundee in the Dubai Municipality for the major event designed to promote dialogue between Dubai and its sister cities.
The City of Discovery is named after Captain Scott's famous Antarctic exploration vessel. The ship is now berthed in the city and has been central to the setting of a new course for Dundee.
So please come and discover Dundee…