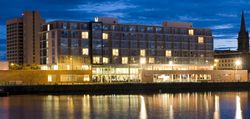 At Apex, we take time to understand how you view your wedding day.
Call Apex for a fresh perspective on your wedding. You can find more information about wedding packages at the Apex on their website.
Tel: 01382 309330
Email: dundee@apexhotels.co.uk
Scottish Tourist Board Approved Description
Contemporary 4 star hotel in Dundee 's City Quay within the City Centre. The suites can cater for civil ceremonies and wedding breakfasts from 10 to 300 people so available for large and small weddings (subject to availability).
View the Disabled Go Access Guide