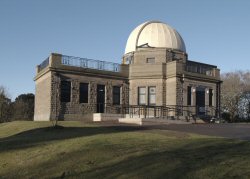 The Mills Observatory is Britain's first purpose-built observatory and was built with the sole aim of encouraging public understanding of science.  Mills Observatory enjoys a magnificent woodland setting on the summit of Balgay Park, within Balgay Park, one mile west of Dundee City Centre.
There is a varied public programme run by Leisure and Culture Dundee, visit the main Mills Observatory page for more details.
The building can also be booked as a venue for a civil marriage.  The southerly facing Sun Terrace provides a large open terrace area with stunning vistas of the River Tay and Fife and will accommodate up to 30 guests.  Visit the Ceremony hire information.