Dundee, Angus and Perth and Kinross Councils wish to seek your views on possible options for school/learning estate developments in the East Carse/West Dundee/South Angus area including the development by all three Councils of a new 2-18 joint community learning campus and/or the creation of a new primary school in Dundee's Western Gateway. The approximate area currently under consideration for the development of the campus is outlined in blue on the map below. (N.B. the campus' catchment area will extend much further)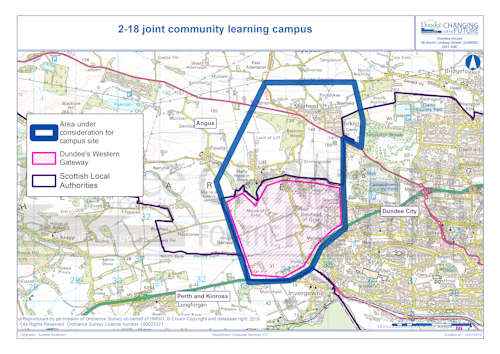 Click map to enlarge
The map below shows the approximate search area for a site for the Joint Community Learning Campus, and is being provided to give additional information about the overall area considered as suitable for the location of the Joint Community Learning Campus.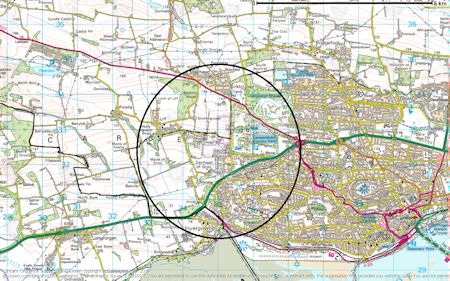 Click map to enlarge
Dundee City Council needs to consider educational provision (nursery, primary and secondary) for families living in existing and new housing in the Western Gateway development area (highlighted in pink on the above map). Currently, this area falls in the catchment areas for Ardler and St Fergus (RC) Primary Schools and Baldragon and St Paul's (RC) Academies. These schools are around three miles from the Western Gateway. At present, no safe walking route has been identified from the Western Gateway to these schools.
As the number of families living in this area increases the demand will be sufficient to require primary school provision specifically to serve the Western Gateway area.
It is unlikely that the number of children and young people living within Dundee's Western Gateway alone will be enough to require a new secondary school. Angus Council are considering a range of options for the learning estate in the west and south of their Council area. At present some secondary pupils are bussed through to Monifieth High School. Perth and Kinross Council are also interested in secondary school provision for pupils living in the eastern half of the Carse of Gowrie.
Under the Tayside Regional Improvement Collaborative all three councils are working together to explore the concept of a 2-18 joint community learning campus. This would provide secondary education to pupils from all three councils. It may provide primary education for pupils from Dundee's Western Gateway and/or south Angus, depending on its final location, as well as 1140 hours nursery provision. The community aspect of the proposal may include access to sports, library and learning facilities.
Dundee City Council needs to consider a range of options for the provision of primary school education for families within its new Western Gateway development.
This may be provided by the new 2-18 joint community learning campus, depending on its location and age range served.
It may be provided by a new Dundee City primary school within the Western Gateway development.
It may eventually even be a combination of both, depending upon the growth of the population of the Western Gateway.
It should be stressed that this proposal is at a very early conceptual stage. We would still need to identify and acquire land, design the building(s) and go through a formal consultation phase before building could start. It is unlikely either the campus or Western Gateway primary school would open until at least the year 2025. As such, please bear in mind we may not yet have definitive answers to some of the questions you may raise at this time.
We are carrying out an initial informal consultation about these proposals. You can attend a public engagement meeting to find out more information and ask questions (details available here). We would also appreciate it if you took time to complete our brief questionnaire at the link below.
Angus, Dundee, Perth and Kinross Learning Estate questionnaire
« Back to main School / Learning Estate Informal Consultation page