Why We Continue to Transform content
C2022 has a clear vision to develop an organisation which: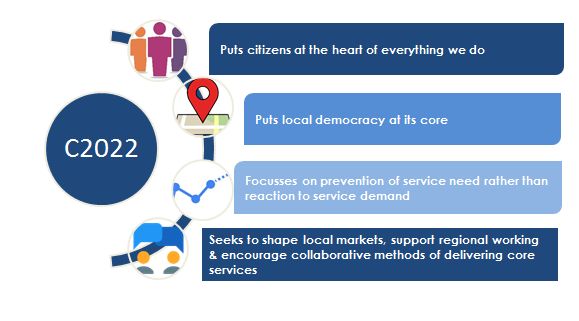 In order to deliver on the priorities set out in the City Plan and our Council Plan we will: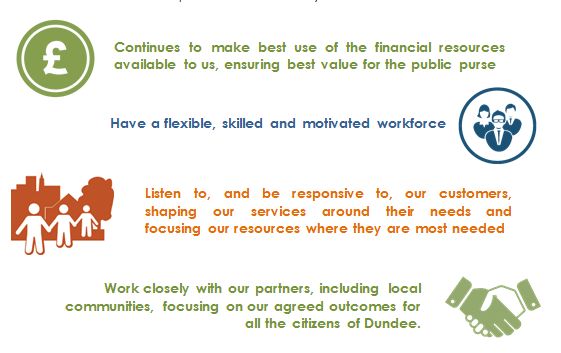 Our aim is to be the best we can be - whether in terms of cost, efficiency or the achievement of the key outcomes set out in the Council and City Plans. Dundee is already a well performing Council, but we want our services to be great and among the top performing in Key priority areas. We are digitally skilled but on a journey to being a smart and connected digital city. We are recognised as sound but want to be known as ambitious and innovative.
How the Council shapes itself to empower communities, manage finances, and make best use of technology and other assets will be a significant challenge and opportunity. The Council has integrated children and family services and health and social care. The Council is also embracing new technologies that can improve lives and communities such as new online services, smart city initiatives and technology enabled care.
It is important that the programme focusses on our citizens and working in partnership with others such as the Health and Social Care Partnership and Leisure and Culture Dundee. The C2022 and partner programmes will focus on ensuring that the lives of our citizens, regardless of background, age or circumstance, are made better by delivering the services that matter to them, in a way that meets their needs because we have designed the services with them, not just for them.
Managing change presents new challenges, including an increasingly complex organisational landscape and changing demands from the public based on their lifestyle, technology use and needs.
We have a number of arm's length organisations, strategic partnerships, commissioned service arrangements and alternative delivery models which mean the way we deliver services is increasingly complex. This goes hand in hand with other challenges such as increasingly complex finances, demand for alternative access to services and legislative complexity.