Covid-19 Vaccinations content
Almost three quarters of adults in Tayside have now had at least one dose of the COVID-19 vaccine.
In total, NHS Tayside's vaccination teams have delivered more than 450,000 vaccines to adults across Tayside, with more than 257,000 receiving at least one jab.
This means that 73% of those eligible have had their first vaccination and 55% – 193,000 people – have had both doses.
30-39-year-olds and second doses:
The NHS is currently vaccinating those aged 30-39, as well as delivering second doses.  
Almost 54% of those eligible in the 30-39 age group have already been vaccinated in Tayside.
The rest of the 30-39-year-olds are due to get their jabs next week as planned and in line with national timescales. 
There are sufficient stocks of both Pfizer and AstraZeneca vaccines in Tayside.
Clinics in Tayside have been running at maximum capacity for two weeks to bring forward second vaccinations in line with the recent updated guidance from the Joint Committee on Vaccination and Immunisation (JCVI) to prioritise second doses.
The progress made so far means that, from the end of June, people can receive their second dose at eight weeks as per the JCVI guidance. 
The NHS Tayside vaccination programme will complete all second doses by mid September.
Under 30s:
Those under 30 who have registered on the national portal will be vaccinated from the week beginning 21 June, with all over 18s to have been offered a vaccination by mid July – ahead of the original timescale of end of July.
Drop-in vaccination clinics week beginning 14/6:
Anyone who is at 12 weeks or more since their first dose of either Pfizer or AstraZeneca can drop in to:
Caird Hall, Dundee: Monday-Sunday 10am-6pm
Dewars Centre, Perth: Monday-Sunday 2-6pm
Blairgowrie Town Hall: Wednesday-Sunday 10am-6pm
Reid Hall, Forfar: Thursday-Sunday 2-6pm
Arbroath Community Centre: Thursday-Sunday 2-6pm
Montrose Town Hall: Thursday-Sunday 2-6pm
Anyone over 40 who has not had their first vaccine (AstraZeneca only) or anyone who is more than 8 weeks since their first AstraZeneca vaccine can drop in to:
Caird Hall, Dundee: Monday-Sunday 10am-6pm
Dens Park Ticket Office Car Park, Dundee (vaccination bus) – Wednesday 16 June, 10am-6pm
Stack Leisure Park, beside former cinema, Dundee (vaccination bus) – Thursday 17 June, 10am-6pm
Dewars Centre, Perth: Monday-Sunday 2-6pm
Blairgowrie Town Hall: Monday 10.30am-6.30pm
Reid Hall, Forfar: Thursday-Sunday 2-6pm
Arbroath Community Centre: Thursday-Sunday 2-6pm
Montrose Town Hall: Thursday-Sunday 2-6pm
If you are in one of these groups you can drop in to any of these sessions, no appointment is needed.
Visiting the NHS Tayside COVID-19 Vaccination Centre at Caird Hall
If you have been contacted by the NHS regarding your appointment at the COVID-19 vaccination centre at Caird Hall, Dundee and require further information about vaccines prior to attending, please visit the NHS Tayside page.
Covid-19 Vaccine - What to expect leaflet - information about what to expect after your Coronavirus vaccination.
Please note the following information:
Please enter the Caird Hall on your own unless you require the assistance of a carer.
Don't arrive too early - people should attend around five minutes before their appointment.
Face coverings will be required when inside the venue, unless exempt.
Once inside, please follow directions and maintain social distancing.
Please wear practical clothing so it is easy to access your upper arm.
You will be asked to wait up to 15 minutes before leaving after your vaccination.
Please do not travel to the Caird Hall unless you have an appointment.
Further information on travelling to the venue can be found on the Caird Hall website.
The closest secure car parks are Gellatly Street and Greenmarket. Parking for Blue Badge holders is available in Castle Street.
A pick up and drop off area is being provided on the west side of Crichton Street. Please note there is strictly no waiting in this area - drivers must not park here for the duration of a vaccination appointment.
To avoid congestion around the city centre, when attending vaccination appointments please use parking facilities as advised in the map below.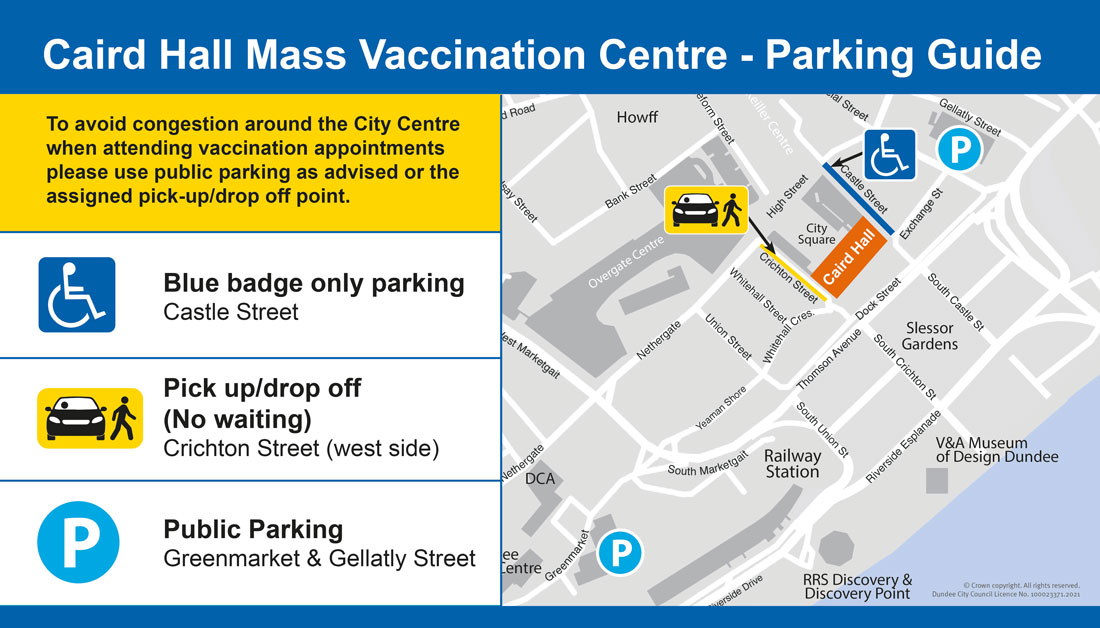 Covid-19 Vaccinations - Frequently Asked Questions
The Coronavirus (COVID-19) vaccines have been created to help protect people against falling seriously ill or dying from Coronavirus. The vaccines work by building up your immunity to the virus, so that if you contract the virus your body will be able fight it off more easily if it affects you.
Are the vaccines safe?
Yes. The vaccines approved for use in the UK have met strict standards of safety, quality and effectiveness set out by the independent Medicines and Healthcare products Regulatory Agency (MHRA).
Each vaccine goes through a rigorous and independent three-phase testing process long before it can be licensed as safe and effective for use. 
During a pandemic, the timeframes can be compressed, but never at the expense of safety. This will be the case for all other COVID-19 vaccines approved for use in the UK.
The MHRA keep the safety of all vaccines under close and continual review, and would take appropriate regulatory action if new evidence emerged which called into question the safety of any vaccines currently in use in.
When will I get my vaccine?
The Joint Committee on Vaccination and Immunisation (JCVI) has created a list of nine groups of people, who are most at risk, that should be vaccinated as a first priority.
Further information on the JCVI priority list can be found here.
Should I contact my GP to arrange my vaccine?
No. You will be contacted by NHS Tayside to arrange an appointment as soon as is possible and in line with vaccine supply. People are asked to be patient and to take up their appointment when they are called. 
I am immunocompromised, can I still have the vaccine?
You can still receive the Coronavirus vaccine if you are immunocompromised or if you have disorders of the immune system. The effectiveness and immune response is being monitored throughout the rollout of the vaccine. 
I'm concerned about going to get the vaccine in case I catch Coronavirus. What should I do?
During your vaccination, strict infection prevention and control measures will be in place. This means that every precaution has been taken to ensure that you will not contract coronavirus whilst attending your appointment. 
I don't want to get the vaccine. Do I have to?
No, but we recommend that everyone should get the vaccine unless there is specific risk, such as women who are pregnant or people who are allergic to the ingredients within the vaccines. It is especially important to get that vaccines if you are on the shielding list, this is because you are at a higher risk of becoming seriously ill from Coronavirus.
If you have any concerns about receiving the vaccine you can call the Scottish COVID-19 Vaccination Helpline on 0800 030 8013 (open daily, 8am to 8pm) or visit NHS Inform.
What are the side effects of the vaccine?
In some cases people may experience side effects after receiving the Coronavirus vaccine. Most side effects are mild and may include:
tenderness, swelling and/or redness at the injection site
headache
muscle ache
feeling tired
fever/ high temperature (37.8°C or greater)
A less common side effect is swelling of the glands which could start a few days after the vaccine and may last for up to two weeks. This is to be expected and is a sign of the immune system responding to the vaccine.
Has the vaccine been tested on people with medical conditions?
Although the vaccines have been through rigorous testing and large scale trials, these may not have included people with a specific condition. However, the Medicine and Healthcare products Regulatory Agency (MHRA) has approved the vaccines for use based on all the data they currently hold. This means that the vaccines have reached the required standards of safety and effectiveness. 
If you are worried about receiving the vaccine you can visit NHS Inform or call the Scottish COVID-19 Vaccination Helpline on 0800 030 8013 (open daily, 8am to 8pm).
Can I have the vaccine if I have severe allergies? 
You should not get the Coronavirus vaccine if you have ever had a severe anaphylactic reaction to any ingredients in the vaccine or a previous dose of the vaccine.
This will only affect a small number of people, but you will be able to ask any questions when you attend your vaccine appointment.  If you do have a reaction to the vaccine, it usually happens in minutes. The people giving the vaccine are trained to deal with allergic reactions and treat them immediately.
Where can I find further information about the Coronavirus vaccine?
If you want to find out more information on the Coronavirus vaccine, you can visit NHS Inform.