Covid-19 Vaccinations content
NHS Tayside is continuing its vaccination programme, with jabs being delivered through GPs and at community vaccination centres including the Caird Hall in Dundee.
Currently, those in priority group 6 on the Joint Committee on Vaccination and Immunisation (JCVI) prioritisation list are being invited for vaccination.  This includes people aged 16-64 with underlying health conditions and adult unpaid carers. Detailed information on who is eligible in this group is available on the NHS Inform website.
This is one of the largest and most complex groups on the priority list so it may take several weeks to complete invitations.  Please be patient - if you are eligible you will get an invitation.
The majority of vaccinations for priority group 6 are being delivered in Tayside by GPs, with the remainder being done in the community vaccination centres including the Caird Hall. 
Who is eligible in the current group (priority group 6)?
People who have conditions which are included in the JCVI list such as diabetes, dementia, severe asthma or COPD, certain cancers, or liver or kidney disease. It also includes those who have had an organ transplant, a stroke, have a learning disability, a BMI of more than 40, or are severely mentally ill.
Adults who provide unpaid face-to-face care for someone else due to a disability, ill-health, frailty or addiction issues.
How will they be invited?
In Tayside, most people who are eligible in these groups will be called directly by their GP practice or the NHS Tayside booking teams to offer an appointment.
Most people will be called from a local NHS Tayside phone number. However, occasionally it may show up as a private or mobile phone number. Please answer these calls if you can.
Anyone who identifies as a carer but does not receive carers benefits, or who is not registered as a carer with their GP practice, will be invited to register at a later date using a national system after which you will receive details of your appointment by letter. This is in line with arrangements across all of Scotland. Further information will follow when this is available.
What about the previous priority groups?
So far, around 97% of people in Tayside who are over 70, 87% of those shielding and 89% aged 65-69 have had a vaccination.
There is a small number of patients who our booking teams have not yet been able to reach in these groups despite best efforts.
Therefore, anyone aged over 70 or who is shielding who hasn't been contacted should call their GP who will either offer an appointment in their own practice or will ensure they get vaccinated at their local community vaccination centre.
Anyone aged 65-69 who hasn't been contacted yet should email tay.c19vaxlocalenquiries@nhs.scot or call 01382 423108. This is currently for people aged 65-69 only so please do not call with queries if you are not in this age group.
The next stage of the programme will see those aged 60-64 invited for vaccination at community vaccination centres including the Caird Hall. Invites for this group will begin later this month when vaccinations are expected to significantly increase following a temporary dip in vaccine supplies nationally.
All subsequent priority groups will be invited for their vaccination at a community centre, as GPs finish priority group 6 then move into delivering second doses.
NHS Tayside is also now delivering second doses to patient-facing health and social care workers, care home staff and residents.
For more information about eligibility and the invitation process, please visit the NHS Tayside website.
Covid-19 Vaccine - What to expect leaflet - information about what to expect after your Coronavirus vaccination.
Visiting the NHS Tayside COVID-19 Vaccination Centre at Caird Hall
If you have been contacted by NHS Tayside regarding your appointment at the COVID-19 vaccination centre at Caird Hall, Dundee and require further information about vaccines prior to attending, please visit the NHS Tayside page.
Covid-19 Vaccine - What to expect leaflet - information about what to expect after your Coronavirus vaccination.
Please note the following information:
Please enter the Caird Hall on your own unless you require the assistance of a carer.
Don't arrive too early - people should attend around five minutes before their appointment.
Face coverings will be required when inside the venue, unless exempt.
Once inside, please follow directions and maintain social distancing.
Please wear practical clothing so it is easy to access your upper arm.
You will be asked to wait up to 15 minutes before leaving after your vaccination.
Please do not travel to the Caird Hall unless you have an appointment.
Further information on travelling to the venue can be found on the Caird Hall website.
Parking is currently free of charge at all Dundee City Council car parks, and the closest secure car parks are Gellatly Street and Greenmarket. Parking for Blue Badge holders is available in Castle Street.
A pick up and drop off area is being provided on the west side of Crichton Street. Please note there is strictly no waiting in this area - drivers must not park here for the duration of a vaccination appointment.
To avoid congestion around the city centre, when attending vaccination appointments please use parking facilities as advised in the map below.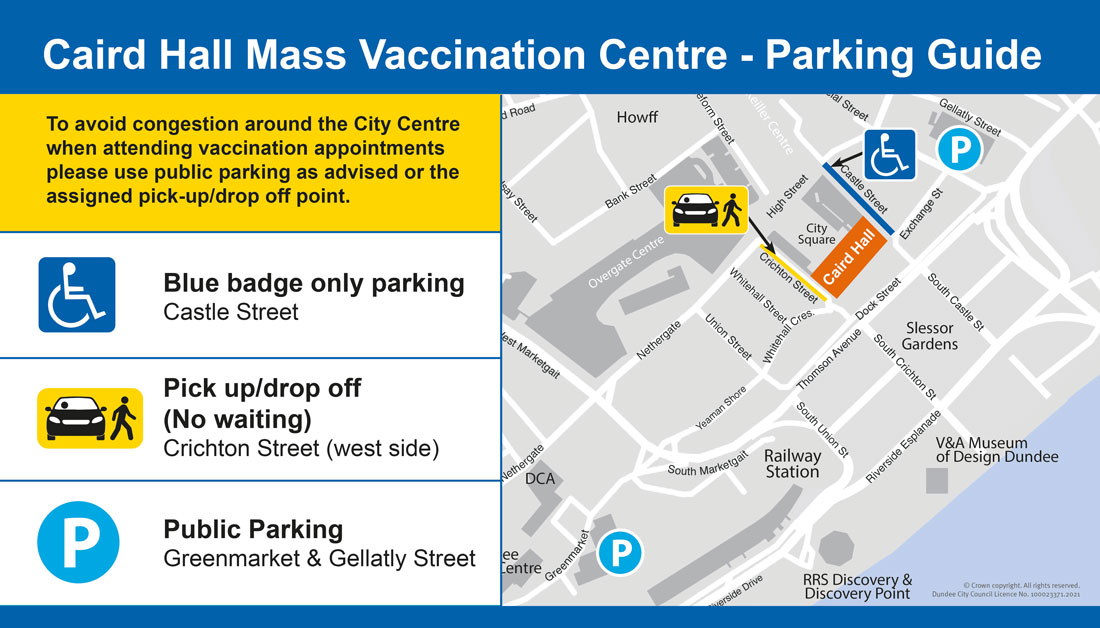 Covid-19 Vaccinations - Frequently Asked Questions
The Coronavirus (COVID-19) vaccines have been created to help protect people against falling seriously ill or dying from Coronavirus. The vaccines work by building up your immunity to the virus, so that if you contract the virus your body will be able fight it off more easily if it affects you.
Are the vaccines safe?
Yes. The vaccines approved for use in the UK have met strict standards of safety, quality and effectiveness set out by the independent Medicines and Healthcare products Regulatory Agency (MHRA).
Each vaccine goes through a rigorous and independent three-phase testing process long before it can be licensed as safe and effective for use. 
During a pandemic, the timeframes can be compressed, but never at the expense of safety. This will be the case for all other COVID-19 vaccines approved for use in the UK.
The MHRA keep the safety of all vaccines under close and continual review, and would take appropriate regulatory action if new evidence emerged which called into question the safety of any vaccines currently in use in.
When will I get my vaccine?
The Joint Committee on Vaccination and Immunisation (JCVI) has created a list of nine groups of people, who are most at risk, that should be vaccinated as a first priority.
Further information on the JCVI priority list can be found here.
Should I contact my GP to arrange my vaccine?
No. You will be contacted by NHS Tayside to arrange an appointment as soon as is possible and in line with vaccine supply. People are asked to be patient and to take up their appointment when they are called. 
I am immunocompromised, can I still have the vaccine?
You can still receive the Coronavirus vaccine if you are immunocompromised or if you have disorders of the immune system. The effectiveness and immune response is being monitored throughout the rollout of the vaccine. 
I'm concerned about going to get the vaccine in case I catch Coronavirus. What should I do?
During your vaccination, strict infection prevention and control measures will be in place. This means that every precaution has been taken to ensure that you will not contract coronavirus whilst attending your appointment. 
I don't want to get the vaccine. Do I have to?
No, but we recommend that everyone should get the vaccine unless there is specific risk, such as women who are pregnant or people who are allergic to the ingredients within the vaccines. It is especially important to get that vaccines if you are on the shielding list, this is because you are at a higher risk of becoming seriously ill from Coronavirus.
If you have any concerns about receiving the vaccine you can call the Scottish COVID-19 Vaccination Helpline on 0800 030 8013 (open daily, 8am to 8pm) or visit NHS Inform.
What are the side effects of the vaccine?
In some cases people may experience side effects after receiving the Coronavirus vaccine. Most side effects are mild and may include:
tenderness, swelling and/or redness at the injection site
headache
muscle ache
feeling tired
fever/ high temperature (37.8°C or greater)
A less common side effect is swelling of the glands which could start a few days after the vaccine and may last for up to two weeks. This is to be expected and is a sign of the immune system responding to the vaccine.
Has the vaccine been tested on people with medical conditions?
Although the vaccines have been through rigorous testing and large scale trials, these may not have included people with a specific condition. However, the Medicine and Healthcare products Regulatory Agency (MHRA) has approved the vaccines for use based on all the data they currently hold. This means that the vaccines have reached the required standards of safety and effectiveness. 
If you are worried about receiving the vaccine you can visit NHS Inform or call the Scottish COVID-19 Vaccination Helpline on 0800 030 8013 (open daily, 8am to 8pm).
Can I have the vaccine if I am pregnant?
If you are pregnant you may be eligible for vaccination against COVID-19.
This is line with recent guidance by the Royal College of Obstetricians and Gynaecologists (RCOG) and advice from the Joint Committee on Vaccination and Immunisation (JCVI) which states that vaccination can be considered in pregnancy only after discussion between the woman and an obstetrician where either:
• You have underlying medical conditions that put you at higher risk of becoming seriously unwell if you do catch coronavirus
• Your risk of exposure to coronavirus is high and cannot be avoided
Therefore COVID-19 vaccination can be offered to two groups of pregnant women – those classed as clinical extremely vulnerable or those working in health or social care.
If you are in one of these categories, please contact your community midwife who will arrange for you to meet with an obstetrician to discuss the vaccine. This is likely to be a virtual appointment.
Please do not directly book an appointment for vaccination with the immunisation team or your GP. Vaccination will only be given after you have had discussion with an obstetrician and will be documented in your maternity notes.
If you are eligible for and have been offered a COVID-19 vaccine, the decision whether to have the vaccination in pregnancy is your choice.
Though there are no specific data as yet about the safety of COVID-19 vaccination in pregnancy, COVID-19 vaccines do not contain ingredients that are known to be harmful to pregnant women or to a developing baby.
The COVID-19 vaccines that are in use in the UK are not live vaccines and so cannot cause COVID-19 infection in you or your baby. There are no known risks associated with giving other non-live vaccines to pregnant women.
As COVID-19 has more serious complications in later pregnancy, some women may choose to delay their vaccine until after the first 12 weeks (which are most important for the baby's development) and will plan to have the first dose at any time from 13 weeks onwards.
Can I have the vaccine if I have severe allergies? 
You should not get the Coronavirus vaccine if you have ever had a severe anaphylactic reaction to any ingredients in the vaccine or a previous dose of the vaccine.
This will only affect a small number of people, but you will be able to ask any questions when you attend your vaccine appointment.  If you do have a reaction to the vaccine, it usually happens in minutes. The people giving the vaccine are trained to deal with allergic reactions and treat them immediately.
Where can I find further information about the Coronavirus vaccine?
If you want to find out more information on the Coronavirus vaccine, you can visit NHS Inform.