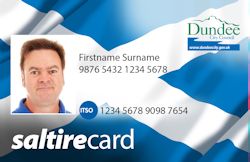 Apply for your NEC in one of these simple ways:
If you have a passport, Photo driving licence or PASS hologrammed Young Scot Card these are acceptable as proof of photograph. Staff will take your photograph at Dundee House for your National Entitlement Card.
If you don't have one of these proofs print out the Photo Form  and attach a passport type photograph and have the rest of the form completed by an appropriate referee.
Completing an application form.
If you would rather you can complete this application form by typing in the required fields printing it out and bringing it in with the necessary proofs.
When you have filled it in, hand in your form with your proofs at any of our Libraries or at Dundee House, 50 North Lindsay Street, Dundee.
Your card will be in the mail to you within the week.
If you are in any doubt please call 01382 433267 Customer Services, inform staff you wish to apply for a National Entitlement Card and give them your name and address. They will advise what documentation you should bring with you as proof for your card.
We have a texting service for deaf/hard of hearing - the number is 0786 0022 899
Acceptable Proofs
These documents (current or within last three months) are acceptable as proof of address:
Home Utility Bill (e.g. Gas, Electricity, Land Line Telephone)
Council Tax Bill (current financial year)
Bank or Mortgage Statement (within the last 3 months)
Television Licence
Award Letter of Child Benefit
Letter from Care or Residential Home
Letter from Dundee City Council confirming that you are resident within the council area
These documents are acceptable as proof of person:
Birth Certificate
Passport
Photo Driving Licence
Medical Card
PASS card
These documents are acceptable as proof of photograph:
Passport
Photo Driving Licence
PASS card
Completed Photo Form
 These documents are acceptable as proof for Volunteers:
Evidence from Project Scotland (Membership Card) or CSV Scotland (Registration Letter).
Delivery
Once your application has been processed your NEC will be delivered to your home address.