KIDZ Card content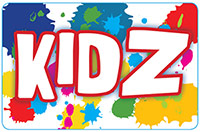 KIDZ cards are issued to Dundee primary school children by Dundee City Council. If you have a KIDZ card it means you are a member of any Dundee Library and you can also get the KIDZ card rates in Leisure and Culture Dundee Swimming Centres.
If your child has not received a card, please contact dundee.nec@dundeecity.gov.uk or call 01382 433267 where staff will deal with your request.
If you have lost your KIDZ Card and need a new one email dundee.nec@dundeecity.gov.uk dundee or call 01382 433267.
If the household is registered for Council Tax reduction further reductions in the price of a swim will be applied. You don't need to do anything as it will be automatically applied if you use your KIDZ card or NEC when you pay for your swim.
KIDZ Cards are part of the National Entitlement Card smartcard family and as such the NEC terms and conditions apply.
The KIDZ Card Parentzone Facebook page has details of events and activities for children.