Changing for the Future C2022 content
This next phase of the programme will continue to be structured around core themes and made up of a number of projects. Each project will be aligned to relevant Council and City Plan strategic service area priorities to ensure a joined-up approach to delivering on the programme, the City Plan for Dundee and the Council Plan.
In building this programme, we have held a number of workshops with a cross section of our employees from across Council services. In the workshops, participants were asked to think of 'Dundee City Council in 2022', specifically tasked to think of big transformational changes they would like to see in the Council and use the above model to develop their ideas.
The response from those involved was very positive, with all participants approaching this way of working with enthusiasm and excitement to be part of building a Council which is 'Changing for the Future'.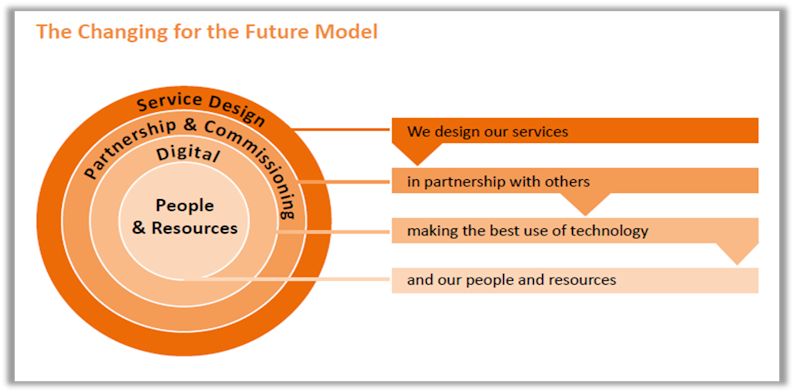 We recognise that service areas already have strategic service plans, savings plans and projects started and identified to contribute to the delivery of these plans. What C2022 aims to do is help support existing plans and projects using the Changing for the Future Model, service design methodologies, a formal transformation Programme Management Office (PMO) and the Building Organisational Leadership & Development (BOLD) programme.
Through this programme and the appropriate adherence to governance, reporting to the PMO and use of methodology we will ensure that all our efforts deliver a better Dundee and Council for our citizens, as well as support and complement our strategic priorities, existing plans and the long term financial plans of the Council.
Projects contained within C2022 will be subject to update reports and reviews by the Council's committees to ensure that Councillors and Dundee's citizens have the opportunity to engage with the Council's transformation plans.