Fuel Well Dundee content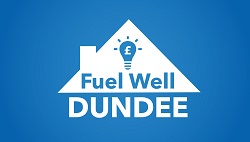 Fuel Well Dundee will close for applications on 20 December 2022.  These applications were for any households who have not already received a Fuel well grant between August and October this year 
This grant application may reopen early January 2023 depending on funding so please keep checking this page.  
Information about alternative sources of financial support can be found in this section of our website.
Payment of the current successful grant applications is due on Monday 19 December, but our staff are still busy working through later applications to ensure payments are made as quickly as possible.  Please do not contact us by telephone about an application you have submitted, unless it's absolutely urgent.  
About Fuel Well Dundee:  
Under this scheme, you could be granted a payment of up to £150* towards your fuel costs this winter with the first payments being made just before Christmas.  
This funding is part of the Scottish Government funding to support individuals affected by Covid-19 and aims to help with winter fuel costs for those most in need in Dundee.  
If you are on any of the following benefits or tax credits then you will automatically qualify for a payment under Fuel Well Dundee if you apply before the scheme closes and you or your partner are responsible for fuel costs in the property.   
Universal Credit 
Working Tax Credit 
Income Support 
Council Tax Reduction 
Job Seekers Allowance 
Pension Credit 
Employment Support Allowance 
Housing Benefit 
Child Tax Credits 
Note that we can only accept one application per household. All applications are cross referenced and checked against existing applications. Any duplicate applications submitted will be refused.  
For those not receiving any of the above benefits then you can still apply if you are struggling with fuel costs but we will need some more details on the reasons for your application and why you need help.  
We ask you a series of questions to help us to process your application. The questions also offer you the chance to get additional free supports and assistance from our team of experts. These can include:  
A welfare benefits check to make sure you're not missing out on money. 
Advice on debt and how to manage it. 
Energy advice on how to save money on your heating costs 
Advice and help to access heating grants and upgrade schemes. 
A referral onto Dundee Employability Programme (to help get into work or move to better paid or a more rewarding jobs) 
FAQs  
Why is Fuel Well Dundee being launched? 
Fuel Poverty over the coming winter has been highlighted as a major issue by the Dundee Fighting for Fairness Commissioners. Energy bills have gone up for many households across Scotland since the energy price cap was increased. The cap was raised by the energy regulator Ofgem to take into account the rising cost of gas and electricity.  It is also clear that the last 2 and a half years have seen new members of society struggle as workers are made redundant and self employed incomes have reduced. In many cases people have had to move onto unfamiliar benefits such as Universal Credit for the first time in their lives.  As a result of these competing pressures and the increase in cost of living, there is a risk that many families will see significant reductions in their weekly incomes just as gas and electricity prices are rising.   
Is Fuel Well Dundee only for those receiving means tested benefits such as Income Support and Universal Credit? 
Customers applying will generally be claiming means tested benefits however we have acknowledged that some of those who are struggling the most may just be above the threshold for means testing but still be fuel poor. Therefore, some discretion will be used in decision making as was the case last year. Those on low income benefits will benefit from the scheme but we aim to have discretion where there are cases of customers struggling to make ends meet for other reasons.  
Who can apply? 
Anyone resident in Dundee can apply and we will automatically consider their application for a potential payment. For those not falling into the above benefit and tax credit categories we will consider the reasons for the application and the level of engagement with our service to determine whether a payment should be made.  Please note that this scheme is only open to people who did not benefit from the fuel well grants made between 1 August 2022 and 31 October 2022  
What if I can't apply online? 
If you can't apply online, library staff at various venues across Dundee can give those who are struggling to apply the assistance to do this via public access computers in local libraries across Dundee. To find your closest local library click Find your local library. 
Does a Fuel Well payment affect my Warm Home Discount Scheme application? 
No 
What do we do once we receive your application? 
We work with an agency called Scarf, which delivers the Home Energy Scotland service in the Dundee City Council area, funded by the Scottish Government and managed by Energy Saving Trust. Together with their workers we will look at the answers on your application and tailor what help might be available. One of our officers may contact you for further information so that we can identify what benefits or fuel help might be available for you to claim. 
How can Scarf help?
Through Home Energy Scotland, Scarf offers energy advice and access to Scottish Government grants to improve your home such as new heating systems, insulation, and door.
Via its in-home advice service, Scarf also provides free measures to households in Dundee. 
Plug in heater 
LED light bulbs 
Draughtproofing 
Letter box heat stopper 
Radiator Panels 
Access to blankets 
Chimney balloons 
Hot water jackets 
Water saving devices 
You can contact and request them to be sent out on 0808 129 0888. 
If I am entitled to a payment when can I expect to receive it? 
Although we are taking applications from 31 October 2022 the grant payment will be made just before Christmas. We aim to make payments between 15 to 21 December where an application has been received prior to 15th November 2022 and the application is successful. Any later applications received may have to wait until mid-January for their payment, although we will do our best to get it to you earlier.