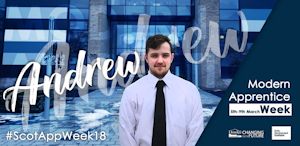 Tell us what it is you do as a Modern Apprentice with the Council
I work in the education section of the IT division within Dundee City Council. At the moment, I am working with and assisting the current IT staff in schools. My day-to-day responsibilities are to deal with any faults that are reported by staff and to make sure that services are up and running within the school.
What do you like and enjoy about it?
I like the problem solving side of the job, you never know what problems are going to run into on any given day so the job is interesting. The opportunity to work alongside and learn from some very experienced IT professionals is brilliant as you get to see first-hand the best ways to deal with complex issues.
One of my favourite parts of the job is the sense of achievement you feel when you have completed a job, the faults that you fix help maintain the schools network which is an important part of a school's infrastructure. When you think back and remember that the kit you have installed, or the fault that you may have fixed enables staff to teach and children to learn, it makes you feel have you have achieved something.
How did you become a Modern Apprentice? What interested you in the first place?
The opportunity of being able to learn on the job was the biggest selling point for me. Before I started with the council, I was at university. I didn't really enjoy what I was doing at the time or the style of learning. I am a much better learner when I am physically involved with what I am doing rather than when I am looking at notes, it helps me gain a better understanding of the task or lesson at hand. The idea of being able to learn on the job was what really sold it for me.
What are your ambitions for the future?
I would like to go far in the career of IT, potentially into management. I feel like I am developing the qualities to become a team leader and so I would want to go down that career path.
What advice would you give to other young people considering being a Modern Apprentice?
If a job opportunity arises and it's down a career path you want to follow, I would definitely recommend becoming a Modern Apprentice. It goes beyond training you for the career path that you've chosen, a Modern Apprenticeship teaches you essential life skills such as timekeeping, communication and critical thinking. It is great for improving your confidence as you are given more responsibility. It sets you up for employment. I couldn't be happier that I've had this opportunity.
Andrew Swarbrick
IT Assistant Modern Apprentice with the Education service