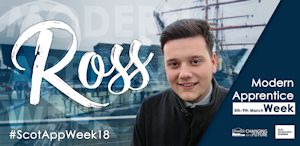 Tell us what it is you do as a Modern Apprentice with the Council
I work as part of a new Big Lottery/ European Social Funded project called 'Dundee Money Action'. My job consists of running the website and social media sites for the service. I also engage with clients who get in touch through these platforms, as well as contributing design and marketing ideas in our project meetings.
What do you like and enjoy about it?
I enjoy working as part of a team where everyone is committed to reaching their own specific goals. I also relish the opportunities that I am provided as part of my apprenticeship, as I get to work with different departments to advance my skills.
How did you become a Modern Apprentice? What interested you in the first place?
I always liked the idea of working and learning at the same time. I'd thought about going to University, however, this apprenticeship gives me an opportunity to gain experience in a working environment that I can take into my next job.
What are your ambitions for the future?
Once I complete this apprenticeship and get my qualification - Diploma in Creative and Digital Media SVQ 3 scqf level 7 - I hope to find full time work in a similar job role where I can continue to improve.
What advice would you give to other young people considering being a Modern Apprentice?
I think it's important to do something you enjoy. Apprenticeships are ideal for easing you into the workplace, so if you find one that you're passionate about, it is well worth applying for as they can set you up for the future in your desired field.
Ross Crighton
Digital Media Modern Apprentice
BLF / ESF Financial Inclusion Project
Dundee Money Action
Dundee City Council
Floor 3, Dundee House
50 North Lindsay Street
Dundee