Britain in Bloom 2015 Awards
Britain in Bloom with the RHS Environment Award - Winner
Presented to the finalist that best demonstrated responsible management of resources and/or high quality sustainable landscaping practices within their entry.
University of Dundee
The city centre campus covers 22 hectares, is fully accessible to the public and works very hard to conserve energy, reduce waste and source locally and responsibly. The university has an increasing recycling rate, currently recycling approximately 70% of waste. In the last 12 months it increased the number of solar-powered bins to 23 and created five new external recycling points.10% of the workforce cycle to work and in seven years increased cycle parking more than 500%. Over 40% of University fleet is electric. The campus is a haven with 1,000 trees and in 2009 created two wildflower areas and an orchard.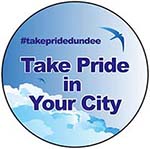 City Category - Winner
Dundee (introductory remarks from the judges, Jeff Bates and Sue Wood)
Although poor weather disrupted the timing of the tour around the city, it did not detract from our viewing of the many and varied activities that are taking place under the auspices of Dundee in Bloom. On the route we were able to meet many of your partners and volunteers and hear of the work that they are involved in. The dramatic reconstruction on the waterfront, creating the V&A Museum of Creativity and Design, a revitalised rail station and open spaces where demonstration gardens and projects will be installed, is something that we look forward to seeing on its completion. The vibrant, environmentally responsible city will surely reach the next level in Britain in Bloom very soon.
Help support our Take Pride in your City community campaign to help make a difference to our neighbourhoods, parks and open spaces.
---
Beautiful Scotland is the largest environmental campaign in Scotland involving communities who are working to make positive and lasting improvements to their local areas for the benefit of the local people. This annual campaign has been running for over 40 years, and until recently was known as 'Beautiful Scotland in Bloom'. Dundee first competed in the Beautiful Scotland Campaign in 2005 achieving awards each year since.
The key criteria of the Campaign are Horticultural Achievement, Environmental Responsibility and Community Participation, and evidence must be shown that efforts are sustained throughout the year.
In the Beautiful Scotland campaign Dundee enters two categories:
Broughty Ferry – Coastal Resort
Dundee – City Category
Broughty Ferry in Bloom and Bonnie Dundee groups, although adopting different methods of working are all made up of members of the community who hold monthly meetings to co-ordinate various activities suitable for the campaign. They aim to help improve the built and natural environment of Dundee for people living, working and visiting. These groups are supported by relevant council officers and their Departments. The groups recently acquired a poly tunnel that is to be sited at Duntrune Community Garden and will be used to grow plants on for various projects and plant sales to raise funds for the groups.
The groups are looking for volunteers to help take the campaign forward and show Dundee looking at its best.