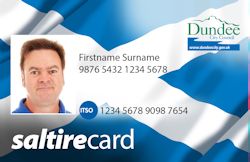 The National Entitlement Card is a smartcard that is used by the following services:
Scotland-wide free bus travel for older (60 plus) and disabled people - often called your bus pass. The travel concessions eligibility criteria page includes what evidence you need to supply with your application form.
Taxicard - offers discounted travel to people who receive DLA mobility component at the higher rate and who have been assessed by the Medical Advisory Service. Email us at Dundee.nec@dundeecity.gov.uk or call us on 433267 if you would like further details or an application form sent out.
Co-wheels Car Club - Dundee NEC holders can take advantage of free membership (normally £25) to Co-wheels Car Club. Customers with an NEC can also benefit with free start up driving credit to get them going. Find out more information about car hire at www.co-wheels.org.uk/dundeenec
Youth transport - 16 to 18 year olds and full-time volunteer Scottish Youth Rail Card Holders will be eligible for 50% discount on rail season ticket prices.  16 to 18 year olds automatically get access to discounted rates. You will receive the discount by simply presenting your Young Scot NEC when purchasing a rail ticket at stations, or on board trains where no ticket issuing facilities are available.
Young Scot - For those aged between 11 and 25, the NEC is your Young Scot Card. The card also works as your Proof of Age (the PASS hologram) and Euro under 26 card. Use it to claim local, national and international discounts. Visit www.youngscot.org for all the details and more.
Library - Use your card in your local library. Simply let the library staff know that you now have a Dundee NEC they will do the rest. No need for additional forms to complete.
Leisure - Your leisureactive membership is also added to your Dundee NEC. See www.leisure-active.com for further details and an application form. Leisure concessions memberships are also available and are delivered on the same card.
Schools - All of the City's secondary schools issue the Dundee NEC. Pupils and staff at the school can use their card for school meals and in the school library. The pupil's card also incorporates the Young Scot branding, and the Proof of Age Standards Scheme (PASS) hologram.
University and College - Abertay University and Dundee and Angus College issue the NEC to students and staff to provide smart services on campus in addition to those above.
Health - participants in the Tayside NHS stop smoking programmes " Give it up for Baby" and quit4u use the NEC to register for incentives as part of the programme.
KIDZ Cards are issued to all primary school children. This comes with library membership and instant access to discounts and concessions at Leisure and Culture Dundee Swimming Centres.
Organisations - the council, university, college have issued the NEC to staff to integrate smart services in the workplace.