Reducing Harm Associated With Drug Use
21/06/22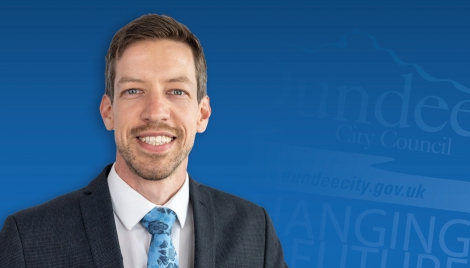 The next steps in bolstering and widening Dundee efforts to reduce the city's drug death toll are set to be taken.
Following a review earlier this year by the Dundee Drugs Commission into its original recommendations, city agencies are now outlining a revised plan to tackle the problems.
Earlier in June, leaders from across the Dundee Partnership issued a renewed Statement of Intent following the publication of the Dundee Drug Commission's update report.
The document includes a commitment to co-produce a City Year of Hope, Kindness and Compassion. This will be a whole city response to vulnerable citizens impacted by trauma and adversities, focusing on reducing stigma. It will include active contributions from citizens, communities, civic leaders, public bodies and the third and private sector.
Now, a revised Strategic Framework and Delivery Plan for Drug and Alcohol Recovery is being developed to sit within a wider community planning context that recognises poverty and deprivation, as well as the range of trauma and adversities that contribute to high levels of drug and alcohol related harm.
Reports to the Integration Joint Board (IJB) of the Dundee Health and Social Care Partnership (June 22), the wider Dundee Partnership (June 22) and Dundee City Council's policy and resources committee (June 27) will start the process.
The framework is being developed not only to respond to recommendations made by the Commission over two reports, but to provide a single, prioritised framework that addresses national policy priorities and local needs.
While the Dundee Alcohol and Drugs Partnership will have an important role in leading the development of the five-year strategy and overseeing implementation, a broader range of Dundee Partnership strategic and governance groups will be expected to take an active role in addressing drug and alcohol issues particularly in relation to prevention activities.
A report explains that this approach to developing the framework and plan is critical in decluttering the landscape, because it will focus resources effectively to support an increased pace of change.
It will also enhance transparency and accountability by having a simple, clear and transparent plan against which progress can be measured.
It is anticipated that approximately £2.7m will be spent through the ADP commissioning programme in 2022/23 compared with around £1.8m in 2021/22.
In a separate report to the policy & resources committee on June 27, councillors are being asked to approve recommendations on how the investment proposals, agreed in the 2022/23 Budget, will be allocated.
This includes £660,000 which would be used to support the implementation of the
Dundee Drugs Commission 2 action plan and Mental Health Services.
Key commitments to sit in the delivery plan include:
Full implementation of the Medication Assistant Treatment (MAT) standards in-line with national requirements and timescales.
Enhancing 24/7 crisis care responses and integrated responses to drug and alcohol and mental health needs.
Implementation of a Shared Care Programme with Primary Care and the third sector.
Full implementation of the residential rehabilitation pathway.
Enhancing the role of Community Pharmacies in delivering treatment and support to people who use drugs and alcohol.
A continued focus on rapid response to non-fatal overdose and to learning from these incidents to inform prevention activity.
Further developing approaches to provision of harm reduction activities in collaboration with people with lived / living experience.
A range of actions to maintain and further strengthen supports to parents / carers and to children and young people, particularly those at risk of harm and to adolescents.
A range of actions to enhance services and supports for vulnerable women.
Activities to improve the use and reporting of data to inform service planning, improvement and evidence-based decision-making.
Developing more opportunities for people with lived / living experience to meaningfully contribute to strategic planning and improvement.
The progression of plans to improve public and workforce communication.
City leaders, in their statement of intent, have accepted that Constitution House should not be the main site for delivery of the Dundee Drug and Alcohol Recovery Service.
Informed by the expertise of the workforce and stakeholders, they will bring forward proposals that support services to be delivered in the future by co-located, multi-disciplinary teams working from accessible, community-based locations. A timescale for moving service delivery to this model will be confirmed in the revised strategic plan.
The leaders have also committed to inviting independent members to join local partnership arrangements to provide advice, support, leadership and challenge as improvement work progresses.
The reports also highlights areas of progress that have been achieved since the drugs commission delivered its original report.
Councillor John Alexander, city council leader and chair of the Dundee Partnership, said: "I am keen that efforts to make Dundee a City of Recovery involve as many groups, organisations and people as possible.
"We are heartened by the fall in drug deaths reflected in statistics, but we are not complacent.
"No one agency can tackle these decades-old problems on their own, and there is no one simple solution that can be applied in a short timescale.
"I am aware that there are frustrations about the situation, but our resolve needs to remain firm for the future of our city.
"We cannot allow the death toll to continue.
"Individuals and families have suffered so much pain because of the devastating consequences of addiction. It is in their name that we are enhancing our efforts to improve the situation."
Councillor Ken Lynn, chair of the IJB, said: "Every drug death is a tragedy and we know we have challenges ahead as we look to enact meaningful changes with partners across the city to improve the situation.
"I firmly believe we need to come together as city to set people free from drug addiction and this framework sets out some key ways to do this.
"Work is already underway on the further 12 recommendations set out in the report. We recently launched a campaign to reduce the use of negative language when speaking about people who use drugs, with an aim to tackling stigma.
"We do not shy away from the fact that we need to make changes and enacting some of these changes highlighted in the report will be a key priority of the IJB over the next few years."
Play and Environmental Improvements
Play and Environmental Improvements
City Councillors have allocated an additional 750,000 for environmental improvements, while also...
05/07/22