Ferry to Monifieth Active Travel Route
25/10/22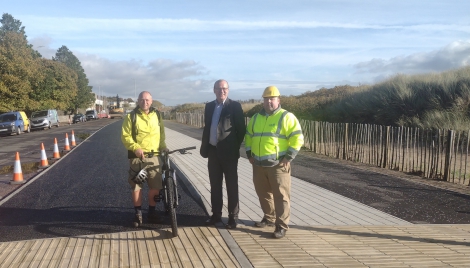 More sections of a multi-million pound active travel route linking Broughty Ferry and Monifieth look set to come a step closer next week as councillors are asked to approve contractors.
Work at Windmill car park, from the Esplanade at Bridge Street to Marine Drive/South Union Street, Monifieth and on a replacement bridge over the Dighty will go to Wates Construction Ltd, if councillors back the move.
Mark Flynn, convener of Dundee City Council's city development committee, said: "I am delighted to see the progress that is being made on what is a key piece of work to deliver this major piece of our active travel infrastructure.
"As much as possible work is being carried out with minimum disruption to residents and road users and because we are doing the whole scheme in bite sized chunks, each section that is commissioned, as others are completed, brings the final project closer to completion."
Cllr Kevin Cordell, the council's cycling spokesperson added: "Seeing tenders up for approval for these major parts of the route, while work on other stretches gets finished is a real sign that our ambitious and unparalleled investment in active travel is beginning to come to life.
"When you add this to the work that has already been completed on North Balmossie Street we are making progress on supporting cycling and other forms of active travel for residents from the large population to the north east of Broughty Ferry, Barnhill, Panmurefield and the north end of Monifieth."
The Broughty Ferry to Monifieth Active Travel project aims to create a better, safer environment to walk, cycle, wheel and to encourage both locals and visitors to enjoy a healthier lifestyle through being more active.
The latest proposed £9.5m works package to be delivered will provide:
a high quality paved, shared footway/cycleway along the beach front at Windmill car park, Broughty Ferry;
a 5m wide shared footway/cycleway between the Esplanade at Bridge Street, to Marine Drive/South Union Street, Monifieth;
a replacement bridge at the Dighty; and
alterations to the rock revetments to allow a wider shared path, all fully illuminated to provide safer access at all times.
The tender comes as Tayside Contracts continue surfacing work on the section of segregated cycleway at Broughty Ferry Esplanade.
It forms part of a wider effort to excavate and remove the south footway and create a new one along with an additional segregated cycleway at the Esplanade. The project also included provision of new drainage.
The city development committee, which meets on Monday (October 31), will be told that final ratification of the funding for the project is expected to come from SUSTRANS within the next two weeks.
Bus station bike shelter
Bus station bike shelter
THE LATEST addition to Dundee?s cycling infrastructure has been unveiled at the city?s bus...
03/02/23
Lord Provost Bill Campbell Blog #8
Lord Provost Bill Campbell Blog #8
Hello, and welcome to my End of Month Blog #8 as the Lord Provost of Dundee.This month, I have...
02/02/23