Traffic and Travel Advice for Radio 1's Big Weekend
05/05/23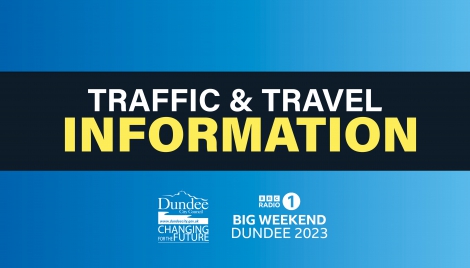 People are being advised to expect significant travel disruption across Dundee and surrounding areas as tens of thousands of festival-goers attend Radio 1's Big Weekend at Camperdown Country Park from Friday May 26 to Sunday May 28.
Motorists and people using public transport are being asked to plan ahead for the weekend as journey times are likely to be longer.
There will be significant disruption on the A90 Kingsway near Camperdown as a major roundabout and access road closures are put in place to ensure public safety for those walking to and from the park.
Traffic will also be restricted on the A923 Coupar Angus Road, with major diversions in place, although some local routes will be available. Other roads will also be shut or access restricted to allow the event to go ahead safely.
Key traffic restrictions around the park include:
Complete closure of the roundabout between the A923 Coupar Angus Road/A90 Kingsway between 10am Friday May 26 and 1am Monday May 29
Coupar Angus Road closed between Harefield Road and Dunsinane Avenue between 9pm and 1am on all three nights Friday May 26, Saturday May 27 and Sunday May 28 - local access still available.
A923 Coupar Angus Road north of Camperdown Park closed in both directions from Templeton Road to Faraday Street, and Faraday Street from Coupar Angus Road to Baird Avenue, from 10.30am to 1.00am on Friday May 26 and 8.00am to 1.00am on Saturday May 27 and Sunday May 28.
Liff Road south of Camperdown Park closed both directions from Myrekirk Road to A90 Kingsway from 10.30am to 1.00am on Friday May 26 and 8.00am to 1.00am on Saturday May 27 and Sunday May 28.
Gourdie Brae closed northbound for its entire length and Liff Road closed southbound from A923 to Church Road between Friday May 26 10:30am to 1.00am, Saturday May 27 and Sunday May 28 8.00am – 1.00am.
Alternative routes for vehicles are available westbound via A90 to Perth / A94 to Coupar Angus /A923 back to Dundee and eastbound via Forfar/A94/A923 also local diversions.
General public transport is also likely to be much busier as people make their way to and from the event, and also in and out of Dundee.
Dundee City Council has produced a transport section on its website outlining how closures will affect roads. You can find full details here
Council leader John Alexander is asking everyone to be patient as the city hosts one of the biggest ever events to happen in Dundee.
Councillor Alexander said: "Without a doubt, the sheer scale and size of Radio 1's Big Weekend means that Dundee will feel very different for the three days.
"This is a huge economic opportunity for our city and we will very much be open for business so that visitors really can have a great time while they are here.
"To ensure public safety, so that huge crowds can get to and from Camperdown, there have to be a number of road restrictions put in place that will mean disruption and diversions for those not attending the event.
"I would ask that everyone is patient and plans ahead. The council will be making traffic information widely available through its website and social media feeds.
"I cannot recall a larger event ever happening in our city. Radio 1's Big Weekend will shine a spotlight on Dundee that will see us reach the homes of millions of people across Britain through high profile broadcast coverage by the BBC.
"The city must make the most of this amazing occasion and I hope people will understand why we have to take certain measures to make it work."
There is no parking at or near the event. Restrictions will be in place across a wider area and will be enforced by parking attendants.
A special shuttle bus service will run from Slessor Gardens to Dunsinane Industrial Estate near the event site. The bus service is free, and you can book tickets here
City centre car parks will be busier than usual as those attending the event are being encouraged to use car parks (info on city centre car parks here) and take the bus to the event dropping them at Dunsinane Industrial Estate
A temporary event car park will also be available at Riverside Drive near the pavilion at Riverside Park football pitches – at a cost of £7 per day card payment only.
Shuttle buses will take people to and from Dunsinane Industrial Estate from Riverside Park Football PItches. There is no need to book tickets for this service. However, please note that only people with vehicles parked at Riverside will be able to use this dedicated shuttle service.
Cycle parking will also be available for those travelling to the event by bicycle on Coupar Angus Road just south of the Kingsway.
People attending the event are advised to be mindful of travel timings if they need to return to the city centre via shuttle bus to catch onwards public transport connections. Details of transport links here
Transport arrangements have been agreed with partners including Transport Scotland and Police Scotland.
Chief Inspector Ross Fitzgerald, Police Scotland's Area Commander for Dundee, said: "We are supportive of the travel and traffic plans put in place by the local authority, as we all work together to ensure the Big Weekend is a safe and successful event.
"There will be an increased police presence at Camperdown Country Park and the surrounding areas over the course of the weekend. We'd like to thank the local community and motorists for their patience and understanding regarding the restrictions and diversions on the days in question."
Latest School Strike Update 25/09
Latest School Strike Update 25/09
Following the suspension of industrial action by both the GMB and Unite unions, Dundee City...
25/09/23
School Strike Update 22/09
School Strike Update 22/09
Following the suspension of industrial action by both the GMB and Unite unions, Dundee City...
22/09/23