Dundee recognised for climate & nature work
12/09/23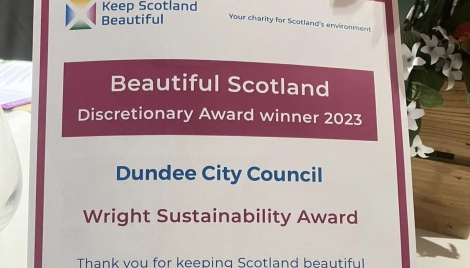 Dundee has been well represented in this year's Beautiful Scotland Awards, with the Bonnie Dundee entry announced as winner of the City category.
Bonnie Dundee also received a Gold Medal, while Ardler Environment Group received a Certificate of Recognition in the non-judged category, and Dundee City Council won the Wright Sustainability Award which is presented to the local authority that has demonstrated best practice in sustainability.
The scheme is administered by Keep Scotland Beautiful, a member of the Royal Horticultural Society's Bloom Federation, and focused on the groups' efforts throughout the year across horticultural achievement, environmental responsibility, and community participation.
Climate, Environment & Biodiversity Committee Convener Heather Anderson said: "It's fantastic to see Dundee's many volunteers and their hard work be recognised on the national stage.
"Our city's network of volunteers, organisations, community groups, schools, businesses and the Council itself, is really impressive and helps to carry out a lot of great work around the city. It's great to see that the Beautiful Scotland judges were impressed by this work too.
"I want to congratulate everyone who has contributed to Dundee receiving these Awards and the extensive work that continues to be done to grow food locally, improve biodiversity, tackle climate change here in Dundee, clear-up litter and to reduce waste."
Juliette Camburn, Senior Officer, Community Initiatives at Keep Scotland Beautiful, said: "I'd like to wish a huge congratulations to the two groups in Dundee City who were honoured at this year's Beautiful Scotland awards night. Being together in person to celebrate the collective efforts to improve our local communities, after such a long absence, has been fantastic.
"We're facing climate and nature crises in Scotland, and everyone must play their part to halt biodiversity loss and to protect and enhance nature. The efforts of our groups, and all involved in their communities, is truly inspiring, ensuring their local areas are not only protected but improved for future generations.
"Every group thoroughly deserves their awards and recognition, and their collective effort is immensely appreciated."
More information about this year's 2023 Beautiful Scotland Award winners is available on the Keep Scotland Beautiful website.
Latest School Strike Update 25/09
Latest School Strike Update 25/09
Following the suspension of industrial action by both the GMB and Unite unions, Dundee City...
25/09/23
School Strike Update 22/09
School Strike Update 22/09
Following the suspension of industrial action by both the GMB and Unite unions, Dundee City...
22/09/23