Broughty Beach content
Coronavirus (COVID-19)
All of our parks and green spaces are open and should be used in line with Government advice on physical distancing to help prevent the spread of Coronavirus. Play areas and communal equipment, including outdoors gym areas are also open (update 29 June).
Members of the public should be aware that all public toilets remain closed until further notice (Tues 23rd June). We apologise for any inconvenience caused.
We are awaiting further guidance from the Scottish Government on the 2020 bathing water season, following public consultation. Please be aware that during this time no water quality testing is being carried out on the bathing water at Broughty Ferry beach. Please remember that lifeguards will not be present and no safe swim zones will be marked out this year. Swimming and bathing is not advised at Broughty Ferry beach during this period. We would urge members of the public to comply with this and stay out of the water. The beach itself remains open for people to enjoy outdoor exercise in line with current restrictions to prevent the spread of Coronavirus. (Thurs 18th June).
---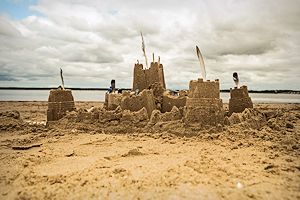 Broughty Ferry has a fantastic sandy resort award winning beach. In the summer thousands of people come to build sand castles and paddle in the water. In the winter the beach becomes a haven for migrating waders. At any time of year it is great for a walk. Please note that animals are not allowed on the beach from May to September.
Local people have got involved with beach clean ups as part of Broughty in Bloom. Broughty Ferry Environmental Project have carried out wildlife surveys and restored dunes. Countryside Rangers lead school groups using the beach for nature study. Dolphins can often be seen in the Tay from the beach.
The Esplanade runs along the top of the beach passed sand dunes and sand martin nests to Broughty Castle and Castle Green play park and features a crazy golf course and kiddicars (April to October) and attractive flower beds, which also are a feature of the quieter Windmill Gardens across the road.
ParkLives - free outdoor activities in Dundee. To see the full list of ParkLives activities view the current timetable on their website - remember all sessions are FREE for everyone!
For further information contact:
Email: environment@dundeecity.gov.uk
Tel: 01382 433710 Option 5
How to Find Us