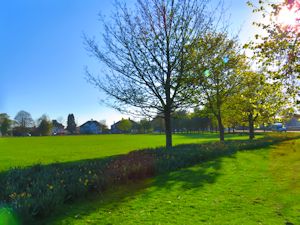 Early in the eighteenth century a regular agricultural market fair was organised, but removed from the regular location of the Market-gait to Stobsmuir, the name of "Stobs Fair" being given to it.
This fair continued to be held there till about 1830, when a murder committed during the turbulence of this carnival led to the removal of the site of the Fair to the ground in Strathmartine Road, which came to be known as "Fairmuir."
The ground was on the property of the Ogilvys of Inverquharity, who had a right to exact payment for its use and this continued until 1883, when the late Sir John Ogilvy of Inverquharity (1803-1890), generously gave over the Fairmuir to Dundee to be used as a recreation park. The Town Council accordingly made it suitable for cricket, football, and other games.
Adapted from: 'Glimpses of Old and New Dundee'
- A.H. Millar, January 1925
Currently Fairmuir Park has football pitches marked in season, an active bowling green, an equipped play area, and tennis courts located nearby on Fairmuir Road.
Public toilets and changing rooms are also available.
How to book sports pitches
Fairmuir Park Map (627KB PDF)
There is an Accessibility Guide available on the AccessAble website.
Please note: desktop printers have different capabilities, so when printing the PDF maps please make sure your settings include 'shrink to printable area' or similar, to ensure you get the entire map on the page.
For further information contact:
Email: environment@dundeecity.gov.uk
Tel: 01382 433710 Option 6
How to Find Us