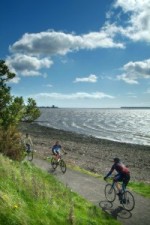 Grassy Beach is a pleasant 1.6 Km stretch of mixed use path along the estuarine river front, from the Stannergate at the Eastern end of the port area, to the edge of Broughty Ferry at Douglas Terrace. It forms part of the city's Greenways Network and is very popular with cyclists, bird watchers, and walkers.
This is a very biologically interesting area, and one of the last remaining sections of original coastal grassland left in the Dundee area. A local community group; The Broughty Ferry Environmental Project combines art with concerns of biodiversity, and has amongst other projects, created an art trail of plant names emplaced along the route.
The widest portion of the beach land is used by various boating enthusiasts, and visitors to Grassy Beach should be aware of the possibility of vessels being taken across the path during launching or landing.
In recent years sections of the path and strengthening the sea defences have been funded through a partnership between Sustrans and Dundee City Council.
You can find out more information about Grassy Beach by downloading the PDF map (801KB PDF).
Desktop printers have different capabilities, so when printing these PDF maps please make sure your settings include 'shrink to printable area' or similar, to ensure you get the entire map on the page.
Contact Details
Email:  environment@dundeecity.gov.uk
Tel No:  01382 433710 Option 6