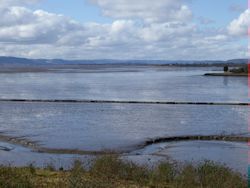 Riverside Nature Park has been created from Dundee's old landfill site. Trees and wildflowers have been planted to form new wildlife habitats.  Visitors will find new paths, view points and information signs to help explore the park.
The Nature Park enjoys an important location on the Tay Estuary.  The water quality of the Firth of Tay is one of the best in Europe for a major estuary.  The estuary has many important natural heritage designations because of the number of species it supports.
The paths to the south of the Nature Park are ideal for watching wading birds feeding on the mud flats at low tide or roosting in Invergowrie Bay at high tide.  Inside the park, redshank, oystercatcher and curlew can often be seen alongside one of the pools probing the soil for worms and other invertebrates.  Over 80 species of birds have been seen on or near the Park.
At anytime of year you can enjoy
Views over the Tay Estuary
Watching wading birds on the mud at low tide, or feeding or roosting around the park
In Autumn and Winter watch out for
Thousands of geese roosting noisily at dusk
In Spring and Summer see
Displays of lapwings, shelduck and skylarks
Wildflowers such as cowslips
The Friends of Riverside Nature Park are helping by carrying out surveys of the biodiversity of the park. They have found over 130 different species of birds including some rare migrants. Email natalie.mackland@dundeecity.gov.uk if you wish to be involved.
You can find out more information about Riverside Nature Park by downloading the PDF leaflet (742KB PDF)
For further information contact:
Email: environment@dundeecity.gov.uk
Tel: 01382 433710 Option 6
There is an Accessibility Guide available on the AccessAble website.
How to Find Us