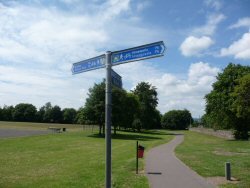 South Road Park is between Menzieshill and Charleston. It is home to outside sport facilities such as football pitches, a multi-use games area (MUGA) and a bowling green. The allotments have recently been refurbished. The park is landscaped with avenues of trees and paths linking the housing estates.
Before the park was developed in the 1970's, there was a Linoleum Works (where the supermarket is now), a quarry, farmland and a railway which ran from Dundee to Newtyle. The cycle and walking route parallel with South Road is built over the railway line which was closed in the 1960s.
Myrekirk Park is very near South Road Park, has a football pitch and a woodland play area. There is also an ancient stone circle call Balgarthno, created thousands of years ago, Dundee's oldest man-made structure.
How to book sports pitches
For further information contact:
Email: environment@dundeecity.gov.uk
Tel: 01382 433710 Option 6
How to Find Us