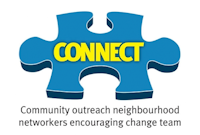 The CONNECT team are part of Council Advice Services (CAS) and give assistance to anyone requiring help with income maximisation, benefit form filling, benefit problems and budgeting.
How to contact CONNECT
Referrals can be made by email to welfare.reform@dundeecity.gov.uk
Or contact 01382 431188, where they can assist over the telephone with advice, help and support.
Connect can help with the following:
Are you struggling to make ends meet?
Universal Credit, Personal Independence Payment or Adult Disability Payment. 
In low paid work and unsure what in-work benefits you may be entitled to?
Do you need help or advice to understand your benefits?
Have you been affected by benefit changes?
Do you need a form completed for a benefit you are claiming?
The service also works in partnership with other services that provide adult learning, health and lifestyle support, energy advice, benefit appeals, money advice for debts, carers, housing, Credit Union, Dundee employment services and many other local initiatives and can arrange appointments with them for you.
We are also currently offering appointments at venues within communities across Dundee. View google maps for further details. Here is the list of venues (as of November 2023).
Note that where you have a form that needs to be completed we would advise making an initial call to 01382 431188 to discuss. Normally with formfilling it is better to make an appointment so that we can spend more time making sure the form is completed properly.
Venue
Day and Time
Appointment Needed? 
Maxwell Centre
Mondays
1pm – 4.30pm
No Appointment Necessary
Adler Complex
Tuesdays
10am – 1pm
Appointments recommended due to high demand
Call: 01382 431188 to make an appointment
Menzieshill Community Hub
Tuesdays
10am – 1pm
No Appointment Necessary
Douglas Community Centre
Wednesdays
10am – 1pm
Appointments recommended due to high demand
Call: 01382 431188 to make an appointment
Finmill Centre
Wednesdays
11am – 2pm
No Appointment Necessary
Lochee Community Hub
Thursdays
10am – 1pm
No Appointment Necessary
St Mary's Community Centre 
Fridays
11am – 1pm
No Appointment Necessary
Charleston Community Centre
Fridays
11am – 2pm
Appointments recommended due to high demand
Call: 01382 431188 to make an appointment
Broughty Ferry Library
(Open Fortnightly)
Fridays
10am – 1pm
Appointments recommended due to high demand
Call: 01382 431188 to make an appointment and check clinic dates
Hilltown Community Hub
Fridays
1pm – 4.30pm
No Appointment Necessary