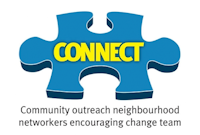 The CONNECT team address the key issues people face as a result of the Welfare Reforms.
We are unable at present to offer a drop in Service at our usual venues and are currently working on appointments only –
Please make referrals by email to welfare.reform@dundeecity.gov.uk
Or contact 01382 431205 where a customer services officer will take your details and a CONNECT officer will call you back within 3 working days
There is a drop in café's that CONNECT have a presence at – where you can drop in for advice and assistance -
Stobswell Café – Stobswell Church, 172 Albert Street, Dundee (top of Albert street) – Tuesdays 11:00am to 13:00
Connect Officers cover all areas in Dundee and they are community based, with drop in and appointment based surgeries, for help and advice. You will find their surgeries in local community centres, libraries, Wellgate Library and other venues.
Have you been affected by the benefit changes?
Do you need help or advice to understand your benefits?
In low paid work and unsure what benefits you may be entitled to?
Are you struggling to make ends meet?
Do you want to know more about the benefit changes, such as Universal Credit or Personal Independence Payment (PIP) and how this will affect you?  We can give you advice, help and support.
We can also help or give advice with benefit form filling, budgeting, fuel poverty etc; and work in partnership with other services that provide adult learning, health and lifestyle support, energy advice, benefit appeals, money advice for debts, carers, housing, Credit Union, the Dundee employment service for support for those looking for work and many other local initiatives.
For Service Providers, we also offer a regular drop in service and currently visit Drop in Cafe's, Parent and toddler groups, mental health and wellbeing groups, Drug and  alcohol services and many more.
Contact Details
Email: welfare.reform@dundeecity.gov.uk
Phone: 01382 431205