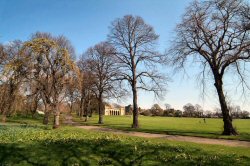 The pavilion and park were gifted to the people of Dundee by prominent flax mill owners, the Baxter family in 1863. Visit the 'David Baxter' page for more information about the family.  The park was laid out by one of the great innovators and achievers of the 19th century, Sir Joseph Paxton and the pavilion was designed by his son in law, George Henry Stokes.
The historic glass fronted Italianate Pavilion positively shines in its restoration and brings classical grandeur to the park. It is situated in the midst of 38 acres of mature parkland and is reached through grand entrance gates and sweeping lawns.
There is a Disabled Access Guide for Baxter Park available here:-
http://disabledgo.com/en/access-guide/baxter-park
Information Sheet for Wedding and Civil Ceremony Hire
The restoration of this magnificent Pavilion includes a large ceremony suite which can accommodate seating for up to 80 and 120 standing. (There are two different layouts available which will influence the number of people attending).
There is a smaller ante room alongside, suitable for the bride and her entourage, equipped with toilets, chairs and a mirror for those last minute checks!
The approach to the Pavilion is through the tree lined drive of Baxter Park and the glazed doors of the marriage suite lead to a large terrace that looks southwards over the park towards the River Tay. Due to its location, Baxter Park affords an exceptional opportunity for photographs before and after your ceremony.
Outside there is parking for two wedding/ceremony cars and they must enter through the Bingham Terrace gates. There are ample car parking facilities outside the park.
Baxter Park Main Pavilion offers a unique and exciting venue for your ceremony and is set to be the flagship marriage venue for civil marriages in Dundee.
The following wedding/ceremony charges are either
inclusive of the Registrar's fees, silk flowers and one bottle of Sparkling Wine
or, if the services of a Registrar are not required
venue hire only, silk flowers and one bottle of Sparkling Wine
The charge is for a period of two hours. The period should allow 30 minutes prior to the commencement of the ceremony to allow for the arrival of guests. An additional hourly rate will be applied for hires exceeding this duration.
Additional hourly rate - within normal opening hours - £55
Additional hourly rate - outwith normal opening hours - £71
For a wedding, the fee is payable direct to the Registrar whether or not their service is required and a deposit may require to be paid at the time of booking.
Charges inclusive of VAT - All inclusive charge
| Day | Charge |
| --- | --- |
| Monday to Friday, 9 am to 5 pm | £343 |
| Saturday, 9 am to 5 pm | £433 |
| Sunday, 9 am to 5 pm | £476 |
| Public Holidays, 9 am to 5 pm | £512 |
Venue Hire Only
| Day | Charge |
| --- | --- |
| Monday to Friday, 9 am to 5 pm | £130 |
| Saturday, 9 am to 5 pm | £155 |
| Sunday, 9 am to 5 pm | £165 |
| Public Holidays, 9 am to 5 pm | £165 |
We shall be happy to accommodate any special requirements you may have which may incur a charge.
The charge may be subject to an inflationary increase in a new financial year.
Useful Information
We can facilitate four types of ceremony at present namely

Civil Marriage
Civil Partnership
Renewal of Vows
Naming Ceremony

Please book as far in advance as possible to avoid disappointment.
You will require to make your own arrangements regarding the availability of a Registrar or Minister for your chosen date and time.
Before committing yourself to having your wedding/ceremony at the Main Pavilion we strongly advise that you come to the Pavilion to view the facility and chat through your requirements with a member of staff.
We allow the use of confetti outdoors only, as long as it is biodegradable.
Please be aware that there will be other members of the public in the park. We hope they will be courteous to you and your guests and we ask that you be courteous to them.
We are happy to arrange a viewing of the facility prior to any booking being made.
Enquiries for Wedding and Civil Ceremony Hire to:
Customer Services
Dundee House, 50 North Lindsay Street
Dundee DD1 1QE Map
Email: lc.bookings@dundeecity.gov.uk
Tel: 01382 307474
Enquiries for bookings for other events to:
Environment Department, 353 Clepington Road
Dundee, DD3 8PL Map
Email: events.activities@dundeecity.gov.uk
Tel: 01382 436871