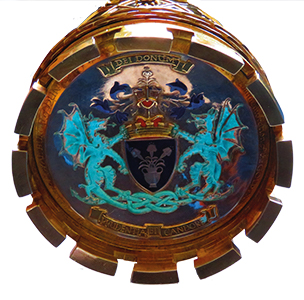 The Civic Mace was designed to follow in the tradition of civic maces which have evolved from the battle-mace or club-like weapon of mediaeval days. The "Sergeant at Arms" or "Armed Servant " carried such weapons. His modern counterpart is the "Council Officer" or "Mace Bearer."
Although gifted by the Rotary Club of Dundee, the Mace bears no outward symbol of that body, it being agreed that as the Mace is a symbol of authority of the Lord Provost it would be appropriate to confine the design to embrace the City's Heraldic Arms, Patron Saints, Principal Industry together with National Emblems. Although traditional in form, the Mace was designed as a complete and original work and was made in traditional ways, crafted in precious metals with additional enamels; its design was approved by the Lord Lyon King of Arms.
The Head is surmounted by a gilded crown or "mural coronet" appropriate to a Royal Burgh. The City Arms are within the crown, the full heraldic arms of the City being chased in silver, gold and inlaid with coloured enamels.
The Crown sits on stylised waves signifying Dundee's reference as a seaport. Below the waves a rope of silver and gold is reminiscent of the days of sailing ships. Below the head and separated by a narrow neck, a supporting knop of silver carries three saints carved and chased in silver, each standing on a backing of blue enamel. St. Mary with infant child, the Patron Saint of Dundee has as her emblem a lily; St. Clement, who was drowned with an anchor round his neck is a former Patron Saint; and St. Andrew and his cross is for Scotland. The three Saints are separated one from the other by seven gold stars. Below the platforms on which the Saints stand are carved and chased Silver Thistles, the Scottish National Emblem and from the knop, the shaft runs through two bosses to a Fort in the form of a Distaff decorated with gold wires which continue through the length of the shaft. The wires are representations of Flax, Jute and Hemp, natural plants of which Dundee was famous for their weaving and ropemaking. The Mace is hall marked with the maker's initials, B.H. for Bernard Harrington, Thistles for Sterling Silver, the Castle for Edinburgh (where the assaying and marking was done) and the date letter 'Y' for the year October 1954/55.
A Scroll recording the occasion of presentation bearing the names of the Members of Dundee Rotary on December 9th, 1955 is contained within a hollowed portion of the Mace.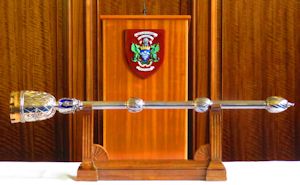 The mace, which measures over forty-eight inches in length, is normally used only within the City Chambers except for the annual Kirkin o' the Council, the Feast of Christ the King and for the graduation ceremonies of the City's Universities.