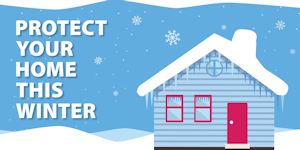 Winter weather can cause serious damage to homes and possessions. You can greatly reduce these risks by following our five point plan:
Check you know how to use your heating system properly - and also where your stop valves are
Keep the heat in - fit draught-proofing, insulate your home and lag pipes.  You may be entitled to have your home insulated and draught-proofed free of charge.  Contact Dundee Energy Efficienty Advice Project (DEEAP), Tel 01382 434940 for more information
If you intend to leave your house unoccupied (for more than a few days) - turn off the water and drain the plumbing system.  If possible leave a key with a neighbour or relative and ask them to check your house regularly.
If pipes become frozen - and are part of the hot water system, turn off or extinguish the source of heat (immersion heater, gas boiler, coal fire with back boilers).
If a burst occurs - turn off the water at the main stop valve in the hours - turn on the taps - switch off the boiler - switch off the immersion or water heating systems or extinguish the fire.
In the event of a burst pipe Council tenants should contact the Housing Repairs Centre, Tel 01382 434343.  Owner occupiers should contact a registered plumber.
Remember prevention is better than cure
Repair dripping taps and ball valves
Salt placed in waste trap of sinks, baths, basins and W.C.'s can prevent freezing
Ensure all taps are full off - running taps may cause water pipes to freeze.