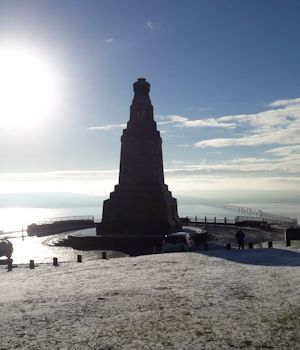 The 572-foot peak is the city's most distinctive landmark and an enduring attraction for visitors and locals.
Central to Dundee's defences for thousands of years, the Law was used as Iron Age hillfort and prehistoric graves dating to about 1500 BC have been uncovered on its slopes. Roman pottery dating from the 1st century AD has also been discovered.
The most notable find, a cup-shaped steatite lamp found during the construction of the war memorial, can be seen in the city's McManus Galleries.
In the 1820s, the Law had a 300 metre long, 3 meter diameter tunnel driven through its eastern flank to carry the Dundee to Newtyle railway. Originally drawn by horse, the first locomotive was introduced in 1833 and operated until the 1860s when a new railway line was built to skirt the hill.
The summit has an observation point offering spectacular views extending on a clear day almost 45 miles over the city to Fife, Perthshire and the Sidlaw Hills to the north. Visitors can explore the whole site using recently refurbished paths and steps.
Public art blends sympathetically with natural habitats, "Fact Panels" guide visitors through the panorama and provide a wealth of fascinating historical, archaeological and environmental information.
A LINC Locally Important Nature Conservation Site, the Law is home to a wide selection of trees, plants, mosses, fungi, insects, birds and mammals and has an active Friends group, and regular activities.
While everyone knows The Law as "Dundee's Volcano" it is actually a volcanic sill. This is an underground sideways flow of lava, forced through weaker rock 400 million years ago. The volcanic rock of Dundee Law was under layers of other rock for millions of years before wild, rain and glaciers cleared the softer rock to expose the hard volcanic rock we see today. Balgay Hill was form in a similar way. The volcano which produced the lava of Balgay and Dundee Law was actually near Stirling!
More information on Dundee Law and what to see and do can be found here www.dundeelaw.info
Contact Details
Email:  environment@dundeecity.gov.uk
Tel No: 01382 433710 Option 6