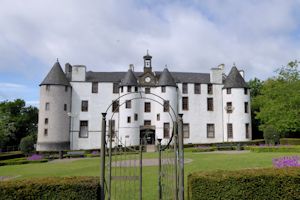 Prior to its present use, Dudhope Park and Castle had been used as a military base. In 1795 a lease was taken by the Ordnance Office for the Castle and the Park of Dudhope for a period of 95 years.
The Castle was used as a barracks from 1796 to 1879. It ceased being used by the army in 1881.
The Castle is now used as office accommodation by Dundee City Council and is unfortunately not available for civil ceremonies. The gardens and surrounding parkland are all approved for civil weddings however and the castle provides a unique and historic backdrop for your photographs.
The landscaping is largely limited to the steep slopes of the park, allowing the grass areas to be used for active and passive recreation.
Recreational facilities within the park include; tennis courts, an equipped play area, a concrete skateboarding park and a multi use game area (5-a-side football / basketball).
An active volunteer group, the Friends of Dudhope Park help look after and promote this lovely central Dundee green space.
For further information:
Download the Dudhope Park Map (792KB PDF)
Email: environment@dundeecity.gov.uk
Tel: 01382 433710 Option 6
How to Find Us