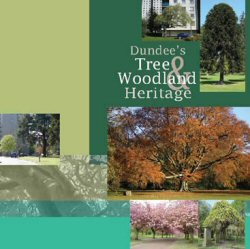 This publication introduces Dundee's rich arboricultural heritage to residents and visitors alike. The 28-page guide looks at how the present distribution of trees and woodlands closely mirrors the main phases of the city's historical development. It goes on to show how much there is to discover within Dundee's woods and provides some background knowledge to give us a fascinating insight into why they are as we see them today.
Dundee's woodland story is one of people almost as much as it is of trees. In the eighteenth century, there was Lord Provost Riddoch who was 'encouraged' to dance around the 'Tree of Liberty'. Later came Admiral Adam Duncan of Camperdown, home of Dundee's greatest claim to fame in terms of trees, the Camperdown Elm. This naturally mutating form of Wych Elm was first found growing wild near to Camperdown House by estate forester, David Taylor. The original plant still survives, grafts from which have been cultivated in gardens and botanical collections all around the world.
Later, mill owners like the Cox brothers would import and plant exotic tree species around their 'jute palaces' and successful entrepreneurs such as Caird, Baxter and Dawson would gift parks and greenspaces to the people of the City.
Nowadays, Dundee's residents continue to participate in the development of the city's woodlands by being involved with community woodland groups, by joining 'friends of' organisations and by identifying and assisting in woodland improvement projects.
Dundee's rich green legacy lives on …