Tennis Courts content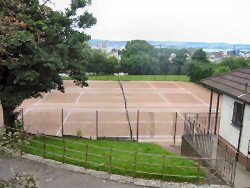 Coronavirus (COVID-19)
Park tennis courts, with the exception of Baxter Park and Dudhope Park* are now available to book online and re-opened Thursday 4th June. Please take note of the following guidance:
Stay at least 2 metres (6ft) away from other players at all times and stay outside the court until it is vacant;
Do not play if you have symptoms (stay at home and self-isolate);
Avoid touching surfaces and follow public health guidelines for hygiene**
Max. two people per court unless doubles pairs are from the same household;
Avoid changing ends or change at opposite sides of the net;
One to one coaching permitted (training no more than one household per day);
Bookings must be made using the online booking system;
Only handle your own racquet and personal (marked) tennis balls;
Please remove any rubbish, i.e. plastic bottles from the court.
*Baxter Park and Dudhope Park will be open but cannot be booked online.
**The keypad on the gate to Dawson Park tennis court will be disabled from Thursday 4th June.
---
The Council manages the provision and maintenance of outdoor tennis courts within parks.
A number of these courts have recently been upgraded and the Council is working towards upgrading the remainder of the tennis courts in the city.
Download a PDF showing the locations of tennis courts across the city (543KB PDF).
View a photo gallery of our tennis courts.
If you are keen to join a local tennis club, you can view their contact details in our Directory of Local Organisations.
Leisure and Culture Dundee deliver tennis activities for children over term time and during school holiday periods.